TFC Issue 3: Brain frazz
Press pause = prevent burnout
Welcome to this issue of The Freelance Collective.
This newsletter is an extension to the 2,400+ strong freelance force we have congregating at @FreelanceCollectiveUK. If you don't already follow us there, come on over!
---
The epileptic's guide to avoiding burnout

I have an in-built way to tell if I'm working too hard, or if I'm stressed. You know usually, when people talk about burnout, it feels as though it's something you can't quite imagine until it's happening to you - and something that you forget the pain of as soon as you're out of it (they say that about childbirth too, right?) 😳
I have temporal lobe epilepsy, so the way my brain responds to working too hard, emotional stress or taking on too much at once, is to quite literally blitz itself. (Fun fact: there are about a dozen different types of epilepsy!)
This week has been tough, as my seizures returned with a vengeance, despite usually being very well controlled with my medication. The old de ja vu feeling crept over me once again, the hyper-focus and sensory overload, the metallic taste, the drop in the pit of my stomach I only associate with seizure-time. Unpleasant and not exactly what I'd been hoping for my autumn term, as I press play on a number of new projects and try to focus on the very big and very real step I'm about to take towards my new career path - starting my masters 🎉- in October.
Of course, thankfully, not many people have something so drastic as a seizure to highlight the stress they're under, but I think it's really important to notice these signs within ourselves when we're on the way to burning out and press pause before the worst happens. When my seizures return, I know I'm on the path to burnout. Simple as that. Proper exhaustion, days flipping past in the blink of an eye and incapacity - something that must be avoided at all costs.
People joke that "you can sleep when you're dead", but I'm here to tell you that nothing good comes from burning up.
So I dial it back. I notice how my body is feeling - how the tension has caught in my jaw and shoulders. I put on some music (or my personal guilty pleasure, re-runs of RuPaul's Drag Race), drink a cup of tea and try to just s-l-o-w my thoughts down. I write copious notes on my phone to get any sudden ideas down and then put it away and force myself to take it easy.
When I'm truly interested in something, I have a tendency to hyper-focus - something a lot of business owners have experienced. When something is really ticking the boxes for how you want to be living your life in future - there's so much to do, the work is interesting, you're feeling inspired and the creativity is an endless stream - it's hard to switch off and truly relax. Your brain buzzes with new ideas and plans and you're reminded of "successful" people claiming to have made millions from sleeping for only 4 hours a night. The truth is, that's just not workable long-term - and I highly doubt those people are accurately reflecting what their real lives actually look like (and how much help they no doubt get to deal with all the mundane stuff we still have to factor in like childcare, laundry and food shopping…)
People joke that "you can sleep when you're dead", but I'm here to tell you that nothing good comes from burning up. There are ways to cope when you're so busy you don't know what day it is - from outsourcing work to other freelancers or using the Pomodoro Technique, many of us have been in a similar situation and there is no shame in needing to take a break. Trust me, there is no need to be scared of the work evaporating - what's for you will find you eventually, but taking breaks and giving yourself ample time to rest and reset is THE most important thing you can do to ensure you really can make a success of your business. When you don't rest, you end up running on less and less, until there's no more petrol left in the tank and you're stranded.
Think of it like a festival. You can run on very little sleep, fuelled by excitement and 3am pizza, staying up til the chickens sing for 5 days straight. But what then happens when you return home? You need at least a week of doing absolutely nothing of value to recover, with only the ringing in your ears to show for it.
I hope you enjoy this week's newsletter. If there's anything you'd like me to share in a future issue, or ideas for what you'd like to read about, just drop me an email me at graceamymaud@gmail.com.
Until next week, with love,
Grace x
---
Become an entrepreneur in 5 quick steps!
Have you thought about starting your own side hustle but don't know where to start? In this 15 page interactive PDF workbook, I tackle why having a gig on the side is a great idea, how you can launch one in 5 simple steps and what the implications on your tax situation are (it's not as complicated as you'd think!) 🤫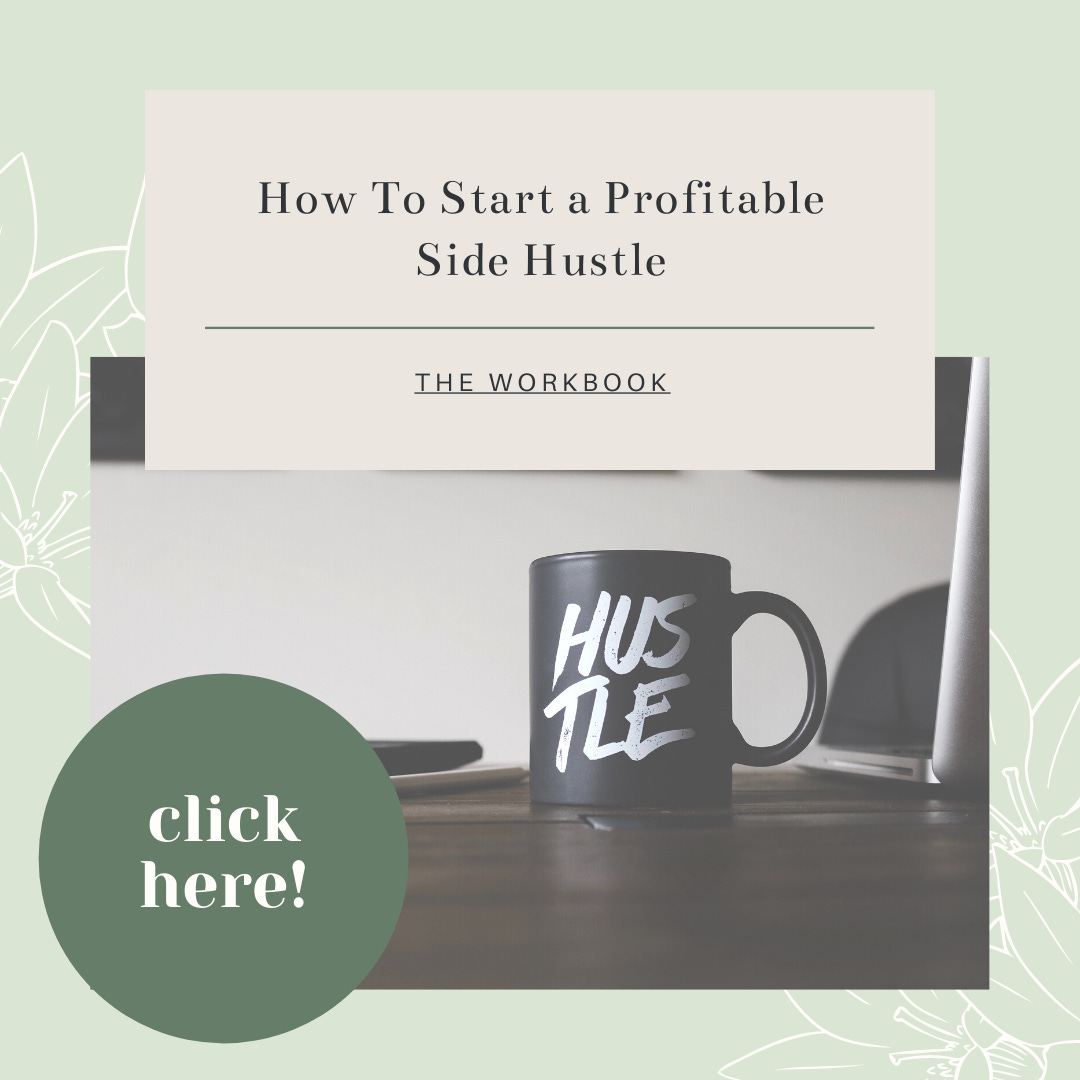 ---
What I've been appreciating this week
---
The Art (of freelancing)
Christian Azolan is a digital visual art & illustration artist from London. He was featured in The Times on Monday after speaking to them about how his lockdown past time inspired him to launch his fledgling business. He's one of many first-time entrepreneurs who took the pandemic as an opportunity to change careers, with amazing results. The piece below, titled 'Emperors' was a particular favourite of mine, because penguins remind me of my brother!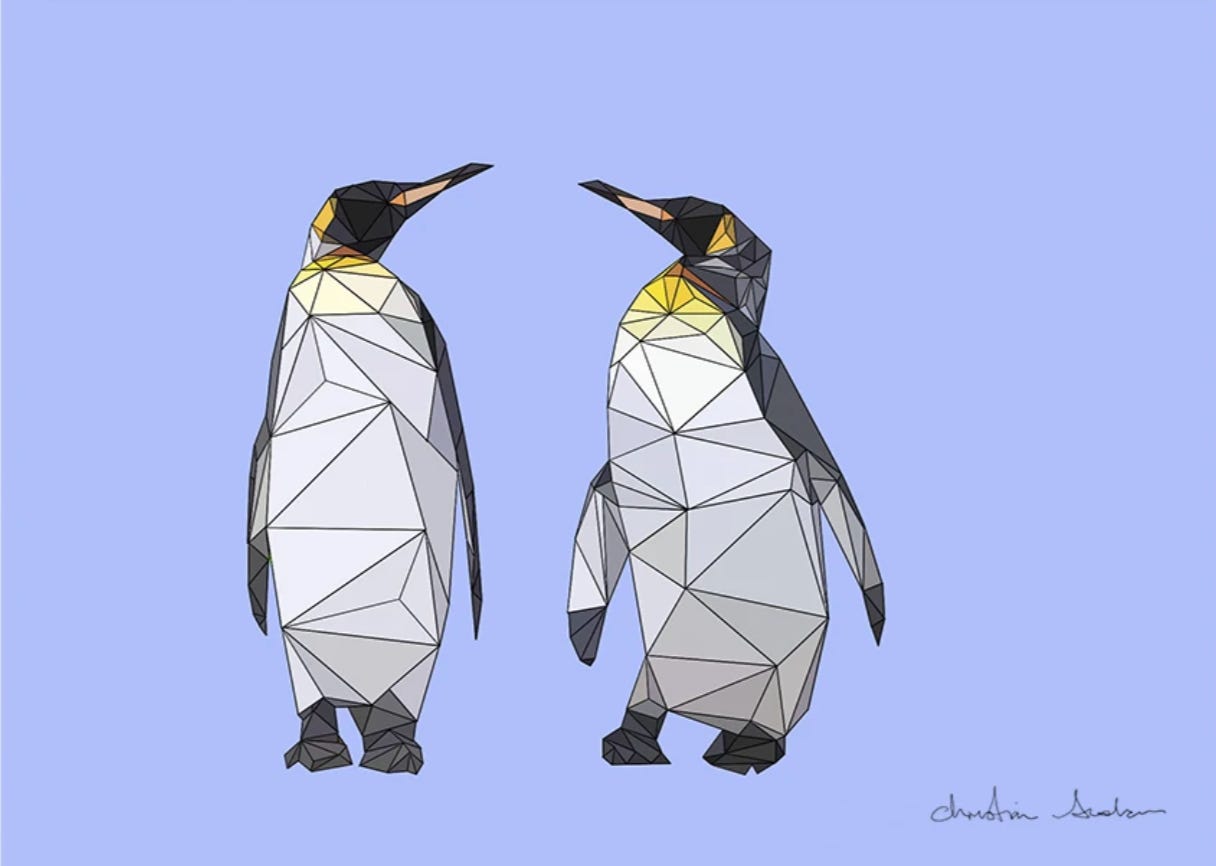 If you're a freelance artist, illustrator or designer and would like to be featured in the art of freelancing, reply or DM me.
---
The Freelancer Conundrum #3
Every week I tackle a question a freelancer has sent in. Hit reply or drop into the DMs over at @FreelanceCollectiveUK if you have a freelancing question I can help you with!
Q: How can I get new clients, especially as a shy and introverted person?

A: Here's the reality: not every freelancer is an extrovert. A lot of business owners are actually introverts and very good at what they do, so there are lots of ways that you can adapt the way you work to make your natural interaction style work to your best advantage.
Probably most importantly, people want to work with people they like, so be yourself - if a slightly more confident version - in your interactions with potential clients and contacts. Despite a slight tendency to be shy in social situations, many introverts are reportedly very good at reading facial expressions and understanding non-verbal cues. These skills are vital when pitching for work and building a relationship with your clients, as does the ability to be a good listener. When looking for someone to work with, clients want to know that you understand their challenges, concerns, pain points and can add value immediately - as an introvert, you have an upper hand here.
Social media can be used to your advantage when looking for clients. You have total control over which services you use and how you present yourself. Your website, too, provides an opportunity for you to sell your expertise and experience, without the need for flashy sales talk. Tighten up your pitch copy and make it truly reflect what differentiates you from your competitors - why should people want to work with you?
That said, promoting yourself and marketing your work effectively is a vital part of working for yourself, and it's something that can take some practice. When speaking with someone on the phone, for example, perhaps prepare a loose script that you can rely on to guide you.
Finally, since introverts gather their energy internally, ensure you always make enough time for yourself to metaphorically "recharge" after your working day is done. It's very important for you to set boundaries early on with new clients too, so that you have that space to spend time alone and recuperate before engaging once again.
---
Do you know someone who has just been made redundant or might be facing redundancy after the furlough scheme winds down?
I've written about my own experience of redundancy in the workbook below and given my tips for how to spruce up your CV and cover letter, as well as your social media profiles. You can access it for FREE - just click below.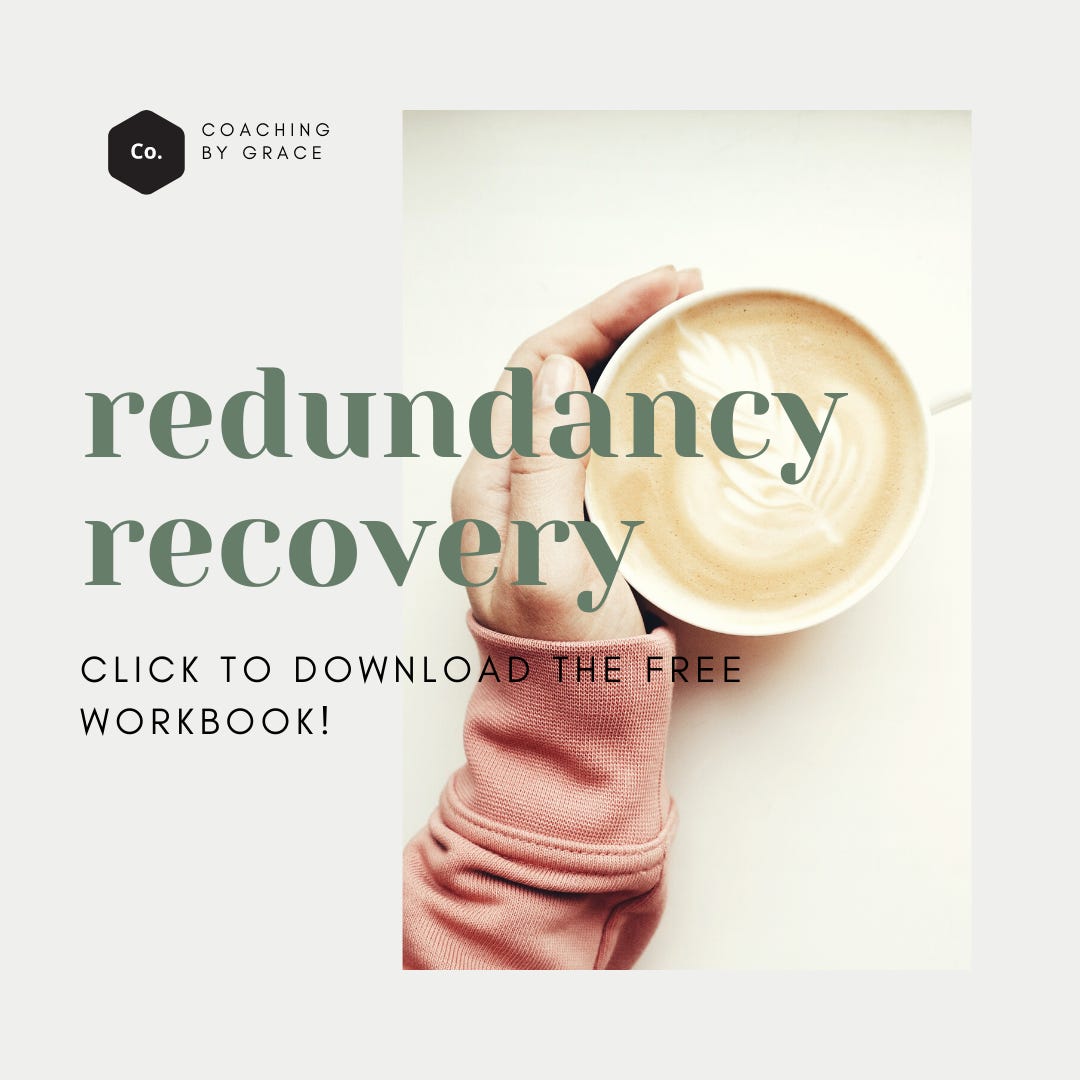 ---
The Weekly Atty
This week Atticus has apparently been enjoying the continuation of the fine September weather, by posing like he's tanning his tummy for the majority of the day. Easy for some, I guess.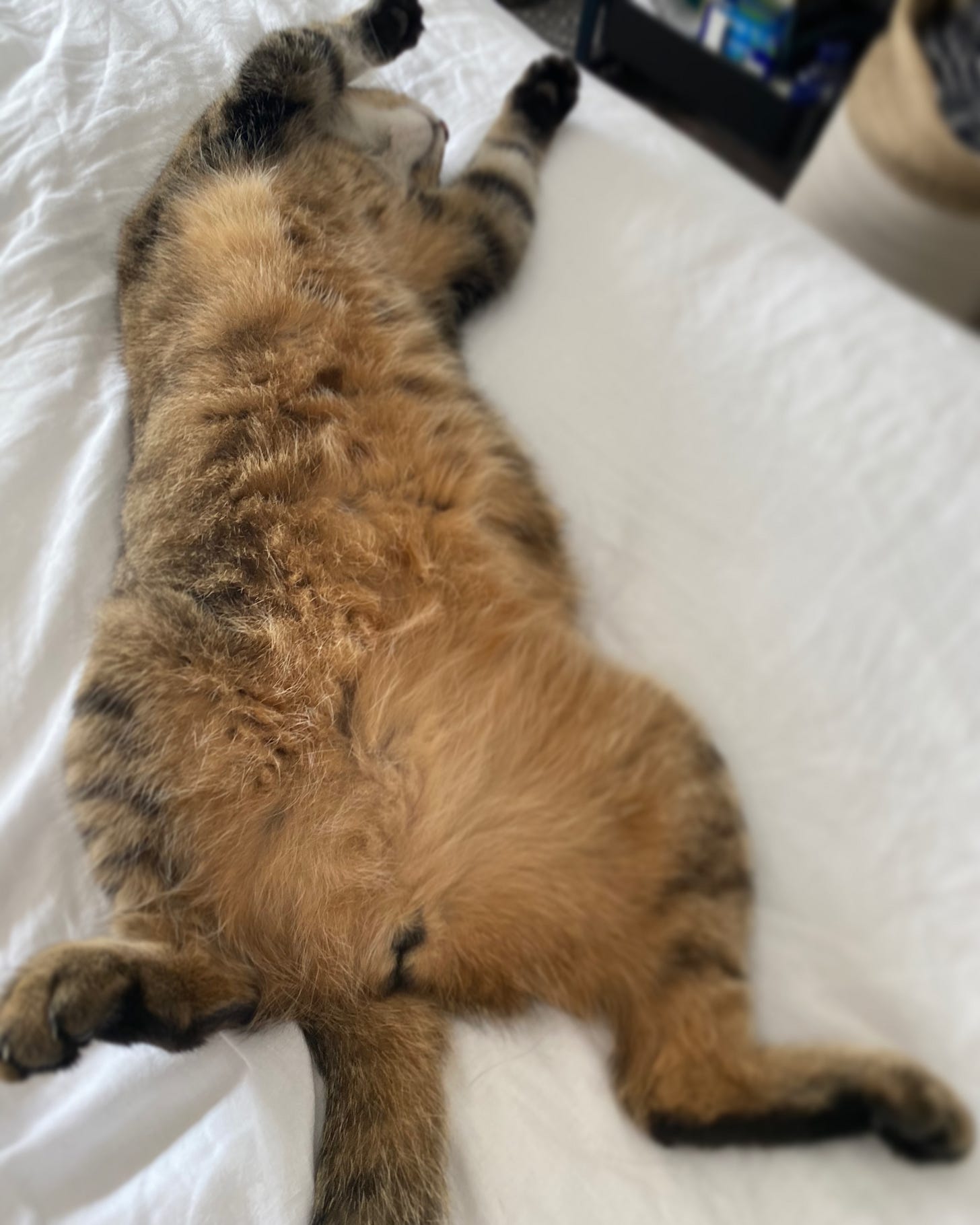 ---
Buy me a cuppa
If you enjoyed this week's newsletter, you can support my work by sharing this with a friend (just forward it on) or buying me a virtual cup of tea/coffee! Just click the little teacup below…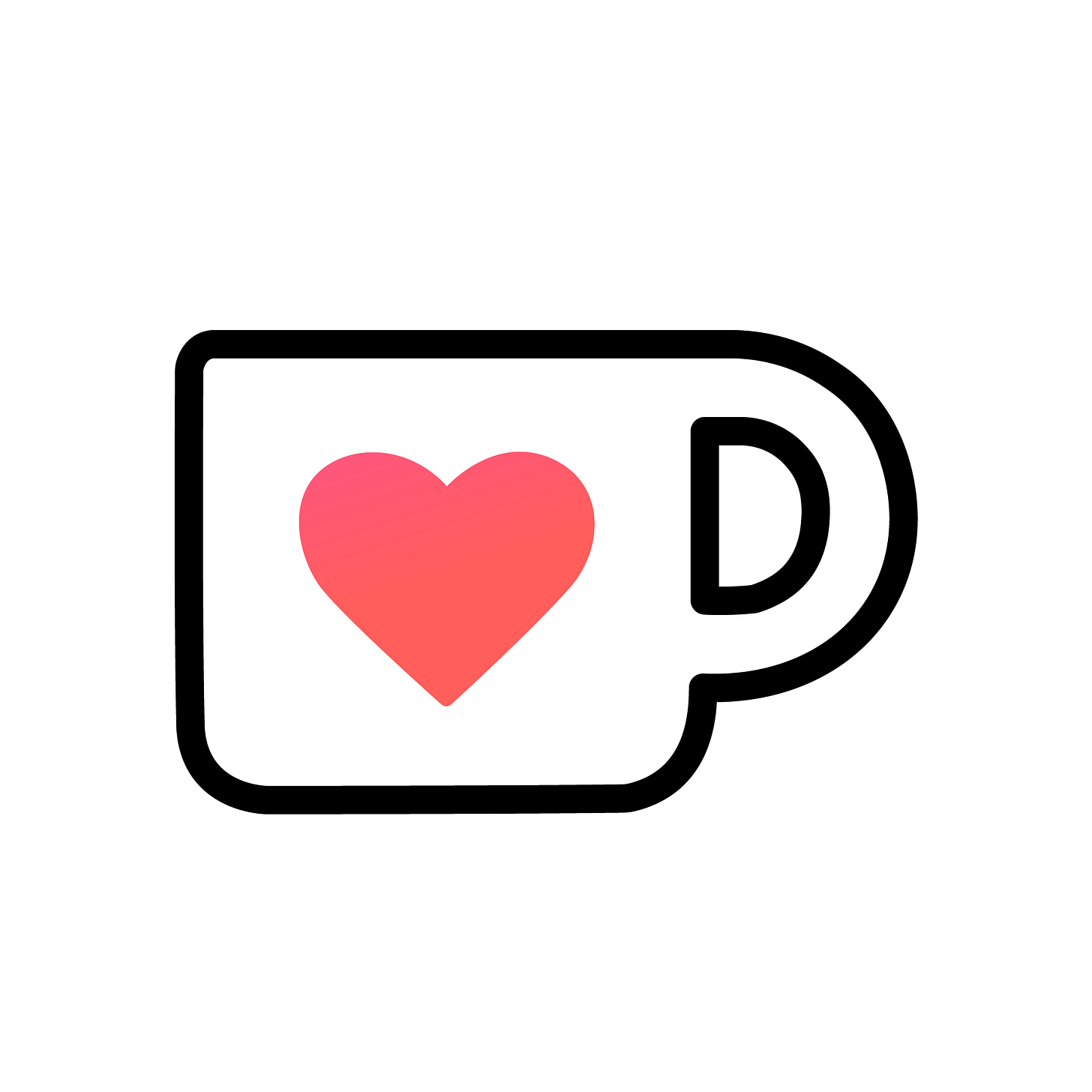 Thanks for subscribing! I'm Grace, I'm a career coach in training and the person behind this newsletter. I am the founder of the freelance community, The Freelance Collective and you can also follow me on Instagram here, and Twitter here.